Article by Anamika Mishra
Are you bullied? Is someone dear to you bullied? Are you under constant stress that your son or daughter or anyone close to your heart may run a risk of getting harassed? If so invoke Archangel Raguel. He is the archangel of "Justice and Fairness". He is known to protect sensitive or even extra- sensitive children. I always combine Reiki while working with angels and it gives fantastic results! I even feel more at home using crystals, candles, incense when it comes to work with Archangels; makes me feel more connected.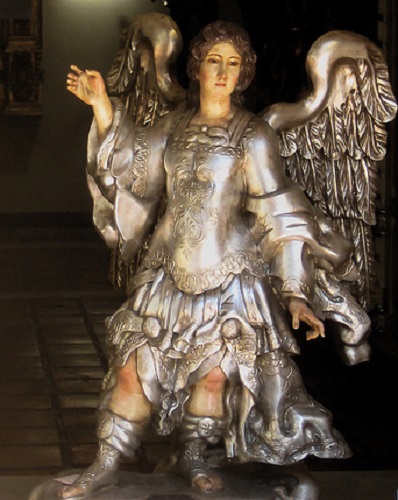 Use your discretion whether you want to use the above – mentioned things.
In order to protect your loved ones from getting bullied follow the below – mentioned steps:
Call Reiki (Attitude of Gratitude).
Invoke Archangel Raguel. Connect with him using HSZSN or Iava. You may experience bluish, pale – bluish hue like clear sky. In case you want to protect someone take permission from him beforehand.
If you are directed to use crystals use Aquamarine / Lapis Lazuli or Blue Agate. (Crystals should be cleansed and programmed before hand)
Anoint a blue or white candle with essential oils of lavender/ jasmine /rose or sandalwood.
State your intention thrice.
Feel that the person concerned who needs to be protected is showered and surrounded by blue healing energies of Archangel Raguel and that the situation is healed.
Alongside pray to him to sever all the negative chords.
Surrender and have faith.
Express gratitude.
Call off Reiki.
Be blessed and happy!
Namaste!
Free eBook download: We've created an eBook with our best articles on this topic, and offer it for free to all our newsletter subscribers. Click the image below to subscribe and download the PDF:
Anamika Mishra has been a teacher of English. She has done her Masters in English and M.Phil. in Education. Anamika feels that Reiki and Tarot are few of the best gifts that life has bestowed on her. She is a Usui Reiki Grandmaster. She practices Karuna® Reiki, Crystal Reiki, Kundalini Reiki, Karmic Reiki, Imara Reiki, Angel Reiki, and Angel Therapy. She is also a Lama Fera healer and teacher. Anamika is a Tarot and Angel Cards reader. She also teaches Crystal Ball Gazing and Automatic Writing. Anamika can be reached at mishraanamika973@gmail.com and on Facebook at https://www.facebook.com/pages/Spiritual-Cafe/1576004825996084.