Article by Reiki Master Sunetra Dasgupta
IAVA (EE-AH-VAH)
Karuna® Reiki Symbol Iava helps us to understand that we create our own story, our own future. We are not a part of someone else's projection. Iava helps us to gain personal power and not be a football of other people opinions and is supportive in this endeavor.
Iava helps us in setting goals for ourselves, build strong persistence, follow our path and maintain healthy boundaries. Despite all the above, we can honour other people's opinion. It is not necessary we have to agree everyone's point of view, accepting it will suffice. The beauty lies in diversity. It also helps us in removing ego which makes us believe a person is either inferior or superior.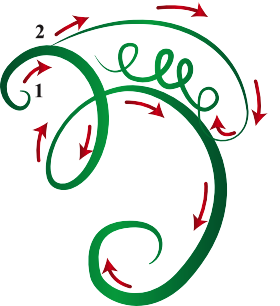 Iava teaches us we are only responsible for our happiness, emotions and feelings, not of others. The only responsibility we have is the way we choose to respond to others in various occasions of our life. We cannot make others happy or sad; it is a person's decision which way they want to lean to. Iava helps us in recognizing interdependence.
It helps us to take action to fulfill our true divine calling and gives us joy while we do our work, which can be anything from teaching children to cleaning your house. End of the day we are healers following the Universe's path. Iava also works well with Harth to help overcome addictions.
The beauty about Karuna® symbol Iava is that it helps to connect deeply with Mother Nature. It teaches us beautiful lessons in life, which we may learn, we learn to keep our mind silent. It is an excellent symbol to give earth healing every day, and make this place a better place to stay!
Free eBook download: We've created an eBook with our best articles on this topic, and offer it for free to all our newsletter subscribers. Click the image below to subscribe and download the PDF:
Apart from being a lecturer teaching undergraduate students Mathematics, Statistics, Research Methodology and Business Communication, Sunetra Dasgupta is a Reiki Teacher. She is emotionally attached to Reiki as she feels, when she was nowhere, Reiki came to rescue her. She has channelled Gajanan Vinayak Reiki, and heals and teaches Traditional (Usui) Reiki, Karmic Reiki, Karuna Reiki®, Soulmate Reiki, Fusion Reiki, Wagle Reiki, Angel Reiki, Tiger Reiki, Lavender Flame Reiki, 30 more types of Reiki, Magnified Healing, DLA, Akashic Records, Access Consciousness, Aura Brushing, Cord Removal, Hypnotherapy, Past Life Regression, EFT, Psychic Surgery, Angel and Tarot Card Reading, Runes, Tasseography, Violet Flame, Herbs and Oils, Candle Magick, Signature Analysis, Vastu, Numerology, Feng Shui, Bach Flower, I Ching, Fairy Ring, LOA. She is also an Angel whisperer. She lives in India and can be followed on her Facebook Reiki Page: Soniele Daniel Healing Miracle facebook.com/Sonieledanielhealingmiracle, Instagram at instagram.com/sonieledanielhealingmiracle and on her Tarot Page which she has formed with 2 other members facebook.com/Tarotmaniacs. She has also written a book "Lessons I learned from Reiki" which can be bought from Pothi.com.