Article by Gustavo Cristian Fritz
When we just started our practice as Reiki practitioners we have very "fresh" in mind what we learned in the courses and we asked the manual or our teacher in case of any doubt. As the time goes by, and especially if we dedicate ourselves to give full-time sessions, there is a risk of becoming a routine. The idea of this article is to review some fundamental aspects of our practice in order to take care of our clients and ourselves.
Always remember, before starting a session, we must recognize ourselves as a channel of Reiki, ask for permission from the soul of our client, ask for assistance and protection from our guides and those of our client for us and for our space, and ask that the best for him/her to happen at this time of evolution in which can be found.
Another no less important topic is the closing of a session, thanking our client for its trust, our guides, theirs and all the beings of Light that we have invoked.
It's advisable to close the session by making an energetic cut using one of the symbols learned in the second level or if we have only taken the first level to apply the "dry shower" technique or Kenyoku Ho.
It's very important to wash hands before receiving our client and after he has left, washing if possible from the elbows to the hands and becoming aware of the cleansing while the water flows.
To keep us vital and with a good frequency of vibration it's also necessary to maintain our space, we can light an incense to cleanse the environment between one client and another or use the second level symbols for cleansing the environment. Always have in your room a vessel with water which we will renew daily, ventilate the place well at the beginning and end of each workday and if it's possible to energetically clean at least once a week using the techniques learned in the second level.
The use of scented candles, incense, purification mixes, Himalayan salt lamps, orgonites, etc., according to the preference of each healer, will provide a pleasant environment not only from the physical point of view but also energetically.
At all times it's important to maintain the intention that all discordant energy in that space, be transmuted into Light and Love. For those who are drawn to angels, the Archangel Michael can be invoked to put a ring of light around us, from our client and around our space which can not be crossed by anything that does not come from the Light.
Doesn't matter how many people we heal, it's important that when we do it that space, be devoted to giving and receiving Reiki; in this way, the practice will become much more pleasant and fruitful for both.
Don't forget that where our attention goes, energy flows, therefore always stay positive, do not think about your client's illness but about its health, that he/she is well physically, mentally, emotionally, and energetically.
As a closing, I leave this reflection that I always keep in mind – while you are in the Light, the shadows can only fade – let Reiki make you shine for the best good of your client and yours.
Infinite blessings, now and always!
Free eBook download: We've created an eBook with our best articles on this topic, and offer it for free to all our newsletter subscribers.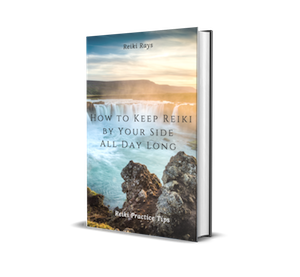 Gustavo Cristian Fritz is a Reiki Master and holistic therapist in Baradero, Buenos Aires, Argentina. He is dedicated to the dissemination of Reiki and Shiatsu among other therapies. After 10 years of applying these techniques, Gustavo is leaving the practice of chemical engineering to fully engage in these activities and provide outreach sessions in all places where he is called. Gustavo can be contacted through his email, vivemejor@ymail.com, his website http://vivemejorbaradero.com/ or Facebook page, https://www.facebook.com/Vivemejor.terapias.para.el.alma