Article by Reiki Master Sunetra Dasgupta
Harth is one of the most important symbols of Karuna® Reiki. It was channeled by William Lee Rand, Katherine Milner and Marcy Miller. Harth is used for all issues of the heart, be it emotional or physical like Love, Truth, Beauty, Harmony and Balance. It removes blocks, uproots fears and fills the empty space with compassionate love.
I personally feel Harth is an upgraded version of the traditional emotional symbol. Harth helps in healing broken relationships and makes us experience unconditional love. It teaches us how expectation can reduce joy and helps us to learn life lessons together with making us a better person. Harth helps us in seeing the scared love for each and every living creature in this planet be it Man, animals or plants; we perform compassionate action only from our open heart. Harth can also be used to develop self love and can help people who suffer from suicidal tendencies. Also protects us from all kinds of psychic attacks.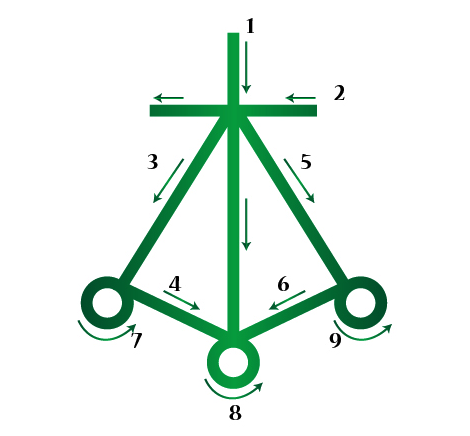 Harth works beautifully for addiction issues. Addiction can be seen as an issue when a person has lost their way and cannot find answers for the questions they have in mind. Harth helps them to understand, all the answers are within us, and we are searching in wrong places, i.e. outside in the physical and materialistic world. It helps in separating the reality and ego, which helps a person heal faster.
When we want to make some fundamental changes in our life or want to start our life afresh and anew Harth is an answer to it. We can visualize the situation and send Harth to it where we want to make changes or if we want acquire some new quality. It helps us to understand that we are the creator of our life and we can make changes in our life!
Harth is a great symbol to request for wishes from the higher realms. Connect to any Archangel, Ascended Master, Reiki Masters or guide with the distance healing symbol, and give them healing with Harth. You can ask them for some kind of special blessing. They will definitely help us building our life with love, joy and gratitude.
Free eBook download: We've created an eBook with our best articles on this topic, and offer it for free to all our newsletter subscribers. Click the image below to subscribe and download the PDF:
Apart from being a lecturer teaching undergraduate students Mathematics, Statistics, Research Methodology and Business Communication, Sunetra Dasgupta is a Reiki Teacher. She is emotionally attached to Reiki as she feels, when she was nowhere, Reiki came to rescue her. She has channelled Gajanan Vinayak Reiki, and heals and teaches Traditional (Usui) Reiki, Karmic Reiki, Karuna Reiki®, Soulmate Reiki, Fusion Reiki, Wagle Reiki, Angel Reiki, Tiger Reiki, Lavender Flame Reiki, 30 more types of Reiki, Magnified Healing, DLA, Akashic Records, Access Consciousness, Aura Brushing, Cord Removal, Hypnotherapy, Past Life Regression, EFT, Psychic Surgery, Angel and Tarot Card Reading, Runes, Tasseography, Violet Flame, Herbs and Oils, Candle Magick, Signature Analysis, Vastu, Numerology, Feng Shui, Bach Flower, I Ching, Fairy Ring, LOA. She is also an Angel whisperer. She lives in India and can be followed on her Facebook Reiki Page: Soniele Daniel Healing Miracle facebook.com/Sonieledanielhealingmiracle, Instagram at instagram.com/sonieledanielhealingmiracle and on her Tarot Page which she has formed with 2 other members facebook.com/Tarotmaniacs. She has also written a book "Lessons I learned from Reiki" which can be bought from Pothi.com.