Article by Reiki Master Judy Camblor
My advice to novice healers is to continue practicing on yourself and learn to work with your own special energy.  I like to think that each Reiki healer has his or her own special life force energy vibration and that they were divinely directed to practice Reiki for certain special needs they may have in their lives and the lives of the people they come into contact with.
When practicing Reiki, ask questions of your energy when you are in the flow with it in order to understand how best to use the life force healing energy that you are producing. Ask it to direct you to where life force energy is needed. I believe that no two healing sessions are the same.  In some healing sessions you may find yourself doing different hand positions that you may believe are wrong or not the way you were taught, but Reiki is an intelligent energy that knows what it needs to do and where it needs to go. I believe we are taught the basics, and that we are free to use our knowledge in our own variations according to how we are divinely guided to use the knowledge.
Read, read, read and never stop learning all the magical ways that Reiki can be helpful in your own life.  Things like making Reiki water, or giving Reiki to your food is a good start. Giving Reiki to your healing space and your entire home is another great practice once you have learned the Reiki symbols.
Another thing a novice healer can do is to experiment with different healing modalities that can be used along with the Reiki knowledge to compliment a session once they are comfortable with their knowledge of how to use Reiki.
Free eBook download: We've created an eBook with our best articles on this topic, and offer it for free to all our newsletter subscribers.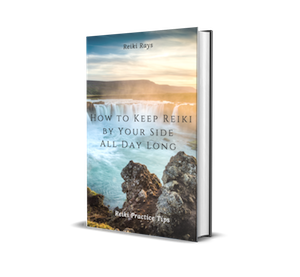 * This article is part of our Ask RMT project where experienced Reiki Masters answer questions from members of our Reiki Rays community. You can find our Ask RMT series of articles here.
Judy Camblor is a certified affiliate member of the International Center for Reiki Training as a Reiki Master/Teacher in the Usui Shiki Ryoho style of Reiki and is also certified in Crystal Healing. Her education in the holistic healing arts is a journey and a work-in-progress where she enjoys participating in all types of metaphysical training to share knowledge, awareness, and empowerment to all of her clients. Prior to becoming a Reiki Master/Teacher and Crystal Healer, Judy practiced as a spiritual-life counselor providing angel card readings. Judy has been treating adults, children, and pets with Reiki for almost ten years, and she has been authoring articles for Reiki Rays since 2013. Her home-based studio is located in Miami, Florida, where she lives with her daughter.
Judy can be reached via e-mail at Judy.LovingLight@hotmail.com; or through her website at www.LovingLightReiki.net.