Article by Magalí Giménez
Our family is our bosom of love. Of all our relationships it is the family that place where you can feel comfortable. The family is our network for containment. For some people, the family is made up of their parents, siblings and other people related by a blood bond, but it is also correct to call family to those who you live with, even if you do not have a degree of kinship with them.
We spend many hours with our family, enjoying with happiness and love, but also solving deep or superficial issues, and raising our children. All these relationships undoubtedly produce at some point at least slight discomfort or misunderstanding. It is necessary to keep a state of harmony and love in that group of people that we consider our family because it is in this sacred place that we detoxify ourselves in love and energy.
Healing with Reiki on a personal level is always wonderful, but in some cases, it is necessary to go deeper or further. I have noticed that, sometimes, doing Reiki only to the person was not enough to improve their discomfort, because it is not only necessary to be in self-balance, but to have this family nucleus balanced, so that the energy received by the person does not go immediately into the process of giving love to the family. Also happens in families something that my Master Claudio Márquez shared with me, that a person may have certain diseases or conditions that result from a situation that must be healed throughout the family, even in a family lineage, even if they are manifested by a single person. Using Reiki in the family core had helped me, and can help to heal those problems.
Here I want to share how I use Reiki and the Angels for family healing.
As for the Angels, after reading Aarti Seraphim's article "Seven Signs of Communication with Your Guardian Angels" I decided to express my intention so that my Guardian Angels can act with free will in my life. And I shared this with my family. At a time we were spending in nature, we did what could be called a ceremony, in which each of us gave permission to his guardian Angel to act in his life and also permission to act together with the Angels of the rest of our family. It was a sublime and magical moment. And I felt that our Angels rejoiced with joy with us and I can feel much more their presence from that moment.
As for healing with Reiki, to have a balanced energy circuit in the family I use the distance Reiki mode and send Reiki to the whole family with special attention to family relationships. This is the method I use:
I invoke the HSZSN symbol and call the names of the family members repeatedly and in a different order with the intention of sending Reiki to the members of this family and the relations between them. I invoke their guardian angels (especially when it is my family) and ask them to give the Reiki energy to this family and to participate in the healing. I clean the bonds between these people to strengthen them as a unit and I clean the negative energies they may have received as a family group. This cleaning has several stages and I also use Karuna symbols in it.

I invoke HSZSN so that the energy affects past situations, then I invoke Hosanna to clean, I seal it with CKR and then send Reiki.
I invoke HSZSN again so that the energy affects past situations, I invoke the symbol Zonar and Halu for spiritual healing of the traumas, I invoke Iava to clean the intentions and energies received from other people and seal this cleaning with Rama and then with CKR. Then I send Reiki for this healing.
I invoke HSZSN and then SHK to heal mental and emotional situations. Seal with CKR and send Reiki with this intention.

At this point, I make special requests appropriate for the family situation, such as solving financial problems, solving communication problems, reaching their goals and being happy. I use the most appropriate symbols for each situation; I seal them with CKR and then send Reiki.
Fill the family with love. I use the symbols Hart, Len So My and "Perfect Love and Trust." I seal them with Rama and CKR and Lotus. Then I send Reiki with the intention of filling the family with love. This is my favorite part of the healing.
Finally, I put a protective shield of energy. With the intention that negative energy will not penetrate this shield and affect the people or family relations. I use the DKM symbol, the Lotus symbol, and CKR. After this, if I consider it necessary I use the DKM so that the family stays connected to the energy and receives healing, even though I am not sending Reiki.
Lotus Symbol – Draw 3 infinity symbols in different rotations and make a circle clockwise around it
Infinite love
Free eBook download: We've created an eBook with our best articles on this topic, and offer it for free to all our newsletter subscribers.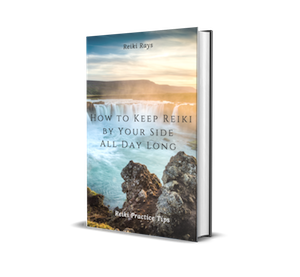 I am Magalí, I am a Molecular Biologist, I have a PhD in Biological Sciences, I specialize in plant genetics and epigenetics.
I am a Master in Usui Reiki and level two Karuna Reiki®. I am a reader and healer of Akashic Registers.
You can contact me at magalienergy@gmail.com