Article by Deborah Lloyd, Reiki Master
Everyone, I'm sure, is familiar with the image of a pebble being dropped into a pool of water. The small ripple in the water continues on and on and on, forming one ripple after another. Not only is the image eye-catching, it teaches us an important lesson. A "small" action that we take, or a comment we make, or a simple smile to another can have a major effect.
In my first years working as a therapist in a community mental health center, I was often surprised when a client told me she'd been thinking a lot about something I'd said the previous session. It was usually something I barely remembered or thought it was an insignificant comment. But the comment led the client to give an issue thoughtful consideration, and it became the main topic of the present visit.
In a similar way, Reiki has a ripple effect. It can be the "small" things, that we may almost overlook, that can have a major impact on the client. For some clients, a warm welcome by the Reiki practitioner is the first step in the healing process. This can be followed by active listening, acceptance of their needs and non-judgmental regard. Creating a compassionate atmosphere is the best segue from a difficult world into a loving one.
Reiki's healing energies during the session is like dropping a rock into the pond! All we need to do is silently state an intention for the client's highest good, do our symbols and let the healing begin. Our role during this time is to simply be the facilitator for whatever healing is happening for the client. Whether or not the client grasps the significance of the Reiki session in his life is not a factor. Often, it takes additional sessions, some introspective pondering, or healthy actions for Reiki to have its best results.
It is not unusual to see a client one time, and although she seems positive about the session, she does not make a second appointment. This can be viewed as "planting a seed." Perhaps, she is not ready to pursue healing on a deeper level. Perhaps, she is consumed with an overwhelming job or family crisis. Pursuing Reiki healing may be put on a backburner; however, do not be discouraged. The ripple effect is still at work. The memory of how she felt is not gone, and she may schedule a Reiki session with you or another practitioner in the future. Or, she may seek another form of energy healing work. It is also possible enough healing happened, and she feels fine, for now.
As human beings, we do not see the whole picture – only Spirit knows how much each Reiki session helps a client. Our job is to accept that every Reiki session has some benefit to a client, whether or not we know what the benefit may be. The benefit may not be recognized by the client; this also means we may not know (at least during our earthly lifetime) how much Reiki has affected the people with whom we work.
This is yet another mystery of the work we do. It is our own faith in Reiki that keeps us energized. It is our own personal experiences that motivate us in wanting to share this gift with others.
The small pebble with the ripple effect may be just one Reiki – it can make a major difference in someone's life.
Free eBook download: We've created an eBook with our best articles on this topic, and offer it for free to all our newsletter subscribers.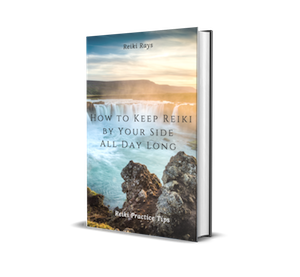 Deborah Lloyd is a Usui and Karuna® Reiki Master and certified holistic therapy practitioner, providing Reiki sessions and training in Asheville, NC. Deborah is the author of two books, 22 Messages from the Archangels; and, Believe and it is True: A Story of Healing and Life Lessons. She is also one of the co-authors of Reiki 101: 101 Answers for Your Reiki Questions. Reach Deborah at http://www.deblloydhealing.com/, deb@deblloydhealing.com and at Deb Lloyd Healing on Facebook (https://www.facebook.com/deblloydhealing)