Article by Deborah Lloyd, Reiki Master
Whenever I am reminded of something three times, I have learned to take notice and find the message for me, or for others. Recently, within a few weeks, three Reiki I practitioners told me they are doubtful Reiki is working for them. Each stated she does not feel anything when she gives Reiki. I asked what their friends or family members said. All three stated the receivers noted the warmth coming from their hands, and after the session stated they reported feeling more relaxed and calm.

What is really happening here? All three received the Reiki I attunement from an experienced Reiki Master. All three had a strong desire to give Reiki. All three were filled with doubt, not trusting the Reiki attunement process.
Let's be clear – the Reiki attunement process may not fit into our logical, rational belief systems. It may seem too fantastic or too mysterious to be real. It may take some faith to believe in its effectiveness. Faith is the state of believing something that may not be provable in the scientific, rational world.
Another factor may be our personal understanding of our own self-worth. We may believe Reiki is possible for other people to facilitate, but it is not possible for me. I am "less than" other people – why would the Divine Source give me the ability to become a channel for this healing energy? This is a mistaken belief. No Reiki practitioner or Reiki Master is a perfect human being. The ability to give Reiki is not reserved for perfect people. If that was the case, Reiki could not exist on our earthly planet as none of us have reached the state of perfection!
Living in a state of doubtfulness is not a new phenomenon for us – it is a common occurrence in our lives. For many of us, Reiki is the one place where we have no doubt. Many of us have a "Reiki story," and we love to tell how much it has changed our lives. We cooperated with it and our lives experienced some form of healing. We believe in its effectiveness and its blessings. We can easily see how it has changed our lives. And now, there is scientific research to prove its amazing effects.
How can we help those who have become Reiki practitioners and do not trust the ability to give Reiki? While each situation varies, here are some ideas:
Ask him to tell you his Reiki story – when he first heard of it, the first experience of receiving Reiki, his decision to attend a class, etc.
Listen carefully and ask pertinent questions; correct any misunderstandings.
Offer to give her a Reiki session.
Offer to receive Reiki from her and reassure her the Reiki is coming through her hands.
If you are a Reiki Master, give a reattunement, or encourage him to receive one.
Reiki does require a certain amount of faith; all of us may have moments of doubt. We must never judge others, but rather we may be called to support others during times of doubt. This too is a gift from the Universe. When the three practitioners disclosed their doubts to me, my first reaction was to provide compassionate support, affirming that the Reiki attunements worked. I encouraged them to continue to offer Reiki to others, even when they have doubt. Over time, the doubts will disappear. All three responded in positive ways; they simply needed reassurance and support.
Free eBook download: We've created an eBook with our best articles on this topic, and offer it for free to all our newsletter subscribers.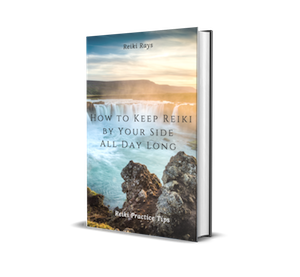 Deborah Lloyd is a Usui and Karuna® Reiki Master and certified holistic therapy practitioner, providing Reiki sessions and training in Asheville, NC. Deborah is the author of two books, 22 Messages from the Archangels; and, Believe and it is True: A Story of Healing and Life Lessons. She is also one of the co-authors of Reiki 101: 101 Answers for Your Reiki Questions. Reach Deborah at http://www.deblloydhealing.com/, deb@deblloydhealing.com and at Deb Lloyd Healing on Facebook (https://www.facebook.com/deblloydhealing)