Article by Reiki Master Sunetra Dasgupta
Hello Beautiful Souls!
I am back with my next article, and that's my journey with the symbol Cho Ku Rei – also known as the power symbol. As per traditional meaning, Cho Ku Rei is the power button and also is used for protection as well as to increase the flow of energies among a lot of other things.
Whenever we are stuck in a situation the first symbol most of us use is the power symbol. We have full confidence and faith that it will help us being unstuck and the matter or situation will resolve naturally. Cho Ku Rei for me personally means setting life straight.
I shall digress a bit and go into "Mahabharat's Chakravyuh". For those who do not know, Mahabharat is an Indian epic where a great war was fought and "Chakravyuh" was a multi-tier defense formation by the "villains" of the story. It was a cross between a puzzle and a wheel. This was generally formed to beat the "bravest and strongest soldiers" and if one did not know the tactics of the formation completely, their death was assured. Sadly many brave men died with the half-baked knowledge of Chakravyuh.
The spirals of Cho Ku Rei reminds me of the Chakravyuh, where we are generally stuck with our low life conditions, or mundane life, unable to cope up and leads a calcified pineal gland life and they also imply half knowledge is dangerous. When I start healing self or others with the symbol, the spirals of Cho Ku Rei stars unfurling and becomes a straight line, metaphorically setting my/others life straight.
With meditation and practice of the power symbol, what has also dawned upon me is it pierces through your mind, body, and soul to remove the veil of illusions of the material world and we can walk towards the mission for which we have taken birth. Also, it helps us in awakening our Kundalini and make it rise which will free us from the vicious circle of life and death and make us understand what the concept of Karma is. It is not only based on our "good" and "bad" deeds but on many other things.
Cho Ku Rei for me personally also holds the power of Ho'oponopono, which not only makes our relation with other peoplebetter but helps us let go of things/relations which does not serve us, with ease, joy, and glory.
I am all ears to know what is your perspective and experience with the symbol. Please leave your comments below or email me.  I shall be happy to read and broaden my horizon further
P.S: This is my experience with the symbol. It doesn't have to be your experience too. I thought it was necessary for me to share my thoughts with the world. Your point of views, bouquet and brickbats are equally welcome. At the end of the day its all about "Perspective".
Free eBook download: We've created an eBook with our best articles on this topic, and offer it for free to all our newsletter subscribers.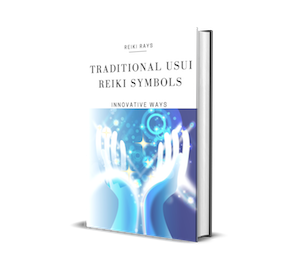 A lecturer by profession, teaching undergraduate students Mathematics, Statistics, Research Methodology and Business Communication, Sunetra Dasgupta is also Reiki Teacher & Healer. She strongly believes that Reiki came to her rescue in difficult phases of life, helping her to cope and transform. Sunetra is currently affiliated to Alohahappiness - an MNC specializing in various healing services, remedial products, Vaastu, Numerology, Astrology and Past Life Regression to name a few. At Alohahappiness, she is an active Guide, Healer and Teacher regularly taking up cases for healing and courses for teaching. She has channelled Gajanan Vinayak Reiki, and heals with and teaches Traditional (Usui) Reiki, Karmic Reiki, Karuna Reiki®, Soulmate Reiki, Fusion Reiki, Wagle Reiki, Angel Reiki, Tiger Reiki, Lavender Flame Reiki, 30 more types of Reiki, Magnified Healing, DLA, Akashic Records, Access Consciousness, Aura Brushing, Cord Removal, Hypnotherapy, Past Life Regression, EFT, Psychic Surgery, Angel and Tarot Card Reading, Runes, Tasseography, Violet Flame, Herbs and Oils, Candle Magick, Signature Analysis, Vastu, Numerology, Feng Shui, Bach Flower, I Ching, Fairy Ring, LOA, Diceology, Lithomancy, Hydromancy. She is also an Angel whisperer. She has also written a book "Lessons I learned from Reiki" which can be bought from Pothi.com.
She lives in India and can be contacted via Alohahappiness official page facebook.com/alohahappiness or Instagram handle @alohappinessbykayshetty. Her personal Pages are facebook.com/Sonieledanielhealingmiracle, and Instagram handle @sonieledanielhealingmiracle.