Article by Deborah Lloyd, Reiki Master
Over the past few decades, happiness has been studied and discussed by professionals all over the world. While happiness seems elusive to many, other people readily agree they are happy.
What factors determine our happiness, or unhappiness? What can each of us do to become happy?
Happiness has now been defined as a state of being, rather than having happy feelings most of the time. Feelings can be fleeting, and happy people will experience sad, angry, disappointed and a host of other unpleasant feelings. Often, we think we will be happy when we find the right career, the perfect partner or have more money in the bank. When these goals are achieved, it is not uncommon for many to realize happiness still eludes them.
When we look to external factors (things outside of our inner beings) to feel happy, it is an unsatisfactory quest. It is our inner being, our state of mind, that feeds us with harmony and peace. Daily, frequent use of Reiki can certainly bring us the kind of inner peacefulness that all of us wish for our lives.
One of the greatest benefits of Reiki is the balance the healing energies bring into our lives. We gain a new perspective about everything. Did you have an exceptionally challenging day at work, and you came home with feelings of frustration and hopelessness? Fifteen minutes of Reiki will soothe your being, and soon you realize the blessings of this job, even when there are difficult moments. Did you have a heated argument with your spouse? A few minutes of Reiki later, you connect with the love you feel for him and decide to release the anger. Are you worried about your finances? Through Reiki, you ask the Universal Life Force energy to decrease your anxiety. You ask for wise guidance to open your heart to abundance.
Regular use of Reiki, however, does not guarantee a perfect life – but it can aid us in developing the calmness and courage to deal with life's challenges, head-on. Reiki aids us in clarifying our wants and needs, and it can reduce uncertainty, or lack of confidence. One of the most important blessings of Reiki is the gratitude that arises with our hearts and our beings during self-treatment, or receiving Reiki from another practitioner. When we connect with the energies, it is an awesome experience. We know we are loved.
Experiencing this eternal, non-judgmental love puts everything else into perspective. Suddenly, the challenges of a work situation seem minor. We regain a more accurate perspective on the spat with our spouse – it truly was just a few minutes in an overall wonderful relationship. Reiki brings balance back into our lives. And, the state of happiness is achieved again.
Another important aspect of a happy life is living a life of purpose or meaning. If we set the intention for Reiki to help us to identify our purpose, the wisdom of Reiki will guide us in the right direction. We can choose to follow this wisdom and live in accordance with our soul's desire.
Life on earth is challenging! But, we have many opportunities to rise to the challenge and to live peaceful and purposeful lives. That is true happiness.
Free eBook download: We've created an eBook with our best articles on this topic, and offer it for free to all our newsletter subscribers.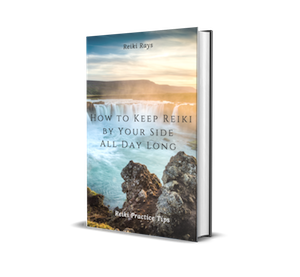 Deborah Lloyd is a Usui and Karuna® Reiki Master and certified holistic therapy practitioner, providing Reiki sessions and training in Asheville, NC. Deborah is the author of two books, 22 Messages from the Archangels; and, Believe and it is True: A Story of Healing and Life Lessons. She is also one of the co-authors of Reiki 101: 101 Answers for Your Reiki Questions. Reach Deborah at http://www.deblloydhealing.com/, deb@deblloydhealing.com and at Deb Lloyd Healing on Facebook (https://www.facebook.com/deblloydhealing)