Article by Charisma Phatak
Greetings! As we all know, that self healing magnifies and amplifies our healing power. It is always better to heal ourselves first and then heal others. We see there are various healing types of self healing like hands on healing, chakra balancing, cord cutting etc and all are equally important for our well being. With this fast paced life, it generally becomes impossible for some of us to do all the self healing techniques plus send healing to those who have asked for.
I must thank my Reiki sister – Jhilmil Golande, who came in help in solving this issue and together we developed 20 – 30 minutes self healing program – day by day for a whole week. I just wished to share the program with you all, probably it would give you some insights in setting up your own self healing program.
Following are the 7 major self healing techniques which we do every week – 1 technique per day:
Day 1: Hands On Reiki – This technique calls for placing our gentle, compassionate hands at our various body positions. This high vibration Reiki touch flushes out all the toxins i.e diseases, stress, blockages etc from our body and increases the life force energy.
Day 2: Chakra Balancing – Sometimes during healing, we suddenly feel surge of energy at our head and we land up with headache, or our hands suddenly get warmer due to enormous healing energy being released from our palms etc. This is because some chakras are over active and hence chakras get imbalanced. When the chakras are not in balance, we tend to vibrate at a lower frequency, due to which the probability of manifesting desires goes down. Moreover, we cannot ascend to a higher level of consciousness and there can be physical illness, mental dysfunction, emotional disruptions. Hence chakra balancing is important to keep ourselves physically, mentally, emotionally and spiritually balanced.
Day 3: Cutting Cords of attachment – We are connected to people by energetic cords and energy is exchanged via these cords. Some cords are positive which are the cords of unconditional love and care, whereas other cords may be negative which sip our energy through these cords. Being healers and vibrating at a high level of frequency, it is very essential to cut these negative cords at least once a week, otherwise we will be drained out, our energy flow will be distorted and we will remain stuck in old, negative patterns. By cutting cords of attachment – negative energetic cords, we not only envelop ourselves with positive vibes but our vibrations are also raised.
Day 4: Getting in tune with Spiritual beings – Its always good to say hello once a week to higher spiritual beings like Angels, Archangels, God, Spirit guides, our own Higher Self and seek guidance to our unanswered questions. This technique also heightens our intuitive abilities enabling us to make correct decisions and our life is cleared from chaos and mess.
Day 5: Karma Release – Once a week, how about dedicating ourselves to release our accumulated karma though the forgiveness affirmations/ forgiveness letter/ Ho'oponopono/ Magnified healing/ Lavender flame of Quan Yin/ Violet Flame/ Karmic Reiki etc. When we make a conscious decision of cleansing our karma, we are unblocking the channel of receiving universal life force energy, thereby reversing or reducing the negativities in our lives.
Day 6: Desire Manifestations – The desires can be roughly categorized in physical – health and finances, emotional – love and relationship, mental – fears, phobias and addiction, spiritual – peace and oneness. When we give Reiki to our desires, we are raising our frequency level (soul, mind and body) to be in sync with the frequency of these desires, leading to desire manifestations. For fast healing results, our intent should be perfectly aligned with our feelings. For eg- I intend to get married but deep within, I am not ready for marriage. From this example, the intent is not in tune with the feelings, hence healing energy won't work effectively.
Day 7: Reiki Water – One day in a week, I generally give a Reiki break to myself. But I still drink water – charged with Reiki infused with Crystals, or bathe with Rock Salt infused with Reiki symbols in water and all auras and chakras are cleansed.
Another valuable guidance that a friend of mine gave me is – just prior to closing the healing sessions, make a Chi Ball of healing energy and bank it in the universe as Reiki Bank. Deposit this 2 minutes of healing energy everyday (after self or distant healings), so that you can withdraw the healing energy from Reiki Bank in emergency situations.
Happy Self Reiking 🙂
Free eBook download: We've created an eBook with our best articles on this topic, and offer it for free to all our newsletter subscribers.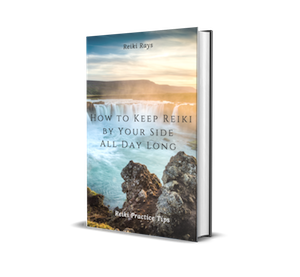 Charisma Phatak is an engineering graduate and a MBA from nationally acclaimed institutions. She is a Reiki Master Teacher and Healer, with a long standing Reiki experience of 13 years. She practices Usui Reiki, Karmic Reiki, Dolphin Reiki, Tiger Reiki, Angel Reiki, Lavender Flame of Quan Yin, Wagle Reiki, Celtic Reiki, DNA Reiki, Magnified Healing, Imara Reiki, Kundalini Reiki, and Divine Light Ascension (DLA).
She, along with her sister Jhilmil Golande is the co-owner of "Supreme Reiki Centre" at Pune, India. Her life with Reiki has been like unlocking the door to unlimited happiness!! Find Charisma at https://facebook.com/supremereiki