Article by Rekha Khatwani
As you all know our subconscious mind is active when we sleep. Subconscious mind is a huge memory bank and the conscious mind is the part of the iceberg we see from the top (2%-5%), whereas the subconscious mind (95%-97%) is the iceberg which is deeply rooted inside the water. So, the power of this mind is beyond our thoughts. This mind is activated at most when you are about to sleep and just after you wake up. So, things you do will go directly to in this mind and creates in the physical form.

In India, we have a tradition that all grandparents tell story to grandchildren before they sleep. The reason behind telling story at this time is the same. When the subconscious mind is at peak of the activation, they want to imbibe positive lessons of the story into child's mind. Also, there is another reason. All the creative activities are the results of your subconscious mind. The stories boost imagination of the child. So, 15 minutes productive reading before you sleep helps you to materialize the powers of the subconscious mind.
So we are going to use this power of subconscious mind with Reiki.
What is Reiki Chi Ball?
Reiki Chi Ball is a mass of positive energy which you can send to a person or a situation or you can program it for future also. Your intent creates the color, the size and everything that goes into it.
Intentions you can set to sleep in Reiki Chi Ball
Desired amount of money.
To get the job.
To get promotion.
To get married.
To sleep peacefully.
To solve health issues.
To buy a new house.
To reduce fever.
To release fears and insecurities.
To clear the chakras.
To transmute the negative energy present in body and aura.
To inculcate a good habit.
To get the solution to your problem.
To get beautiful skin.
To clear the blockages of your life.
To inculcate the habit of having Gratitude towards every person you are in relationship with and everything you have.
The list is endless. You can manifest anything you wish.
Procedure:
Before going to sleep, do this exercise.
Sit down in comfortable position with spine straight or you can simply lie down.
Ground yourself – Visualize roots coming out from your feet and getting anchored into Mother Earth. By doing so all negativities are flushed out from your body. Mother Earth converts this negative energy into positive energy and gives you back positive energy.
Set intention and ask Angels to help you and guide you in this process.
Take few breaths to centre yourself.
Now visualize a white or a transparent ball around you.
Invoke all the Reiki symbols you are attuned to and send the Reiki energy for the time you are guided to.
Visualize that the wish has been already manifested.
Ask Reiki to work for whole night on the issues relating to the intention you set.
Seal the Reiki Chi Ball with the Power Symbol.
Express Gratitude for Reiki and Angels.
Sleep peacefully.
Do try this technique. It works amazingly. Share your experiences please.
Stay blessed!
Free eBook download: We've created an eBook with our best articles on this topic, and offer it for free to all our newsletter subscribers.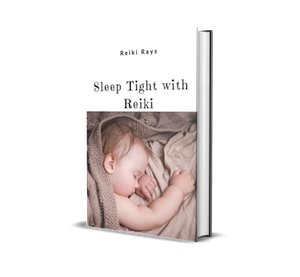 Rekha Khatwani has done MBA in Fashion Designing. She quitted these fields after getting the tremendous results of Reiki and decided to follow her life purpose to be a healer. Rekha is Reiki Master Teacher, Karuna® Reiki Master, Karmic Reiki Master, Money Reiki Grandmaster, Divine Light Ascension (DLA) Channel, Tarot and Angel Card Reader, Independent Bach Flower Therapist. She does healing with the help of Angels, Crystals, Prana Violet Healing Wand. Reiki is divine gift to her and she feels very lucky and special to be a Reiki channel.