Article by Angie Webster
Self-healing needs to be of primary importance for any Reiki practitioner. Many times it is tempting to put this practice aside, or never start it, with the intention of only healing others. In particular, there can be a belief that the gift of healing is meant to be shared and that you are being a good person by doing that. While sharing healing may be a worthy goal for some, it is even more important that you do your own healing work. It is also perfectly acceptable to learn Reiki for your own self-healing and nothing more.
When we heal ourselves, we automatically show others the way. We also make the world a slightly better place by reducing the level of distress, unrest, and feelings of separation in the world. What affects one of us, affects us all. Each person that heals, heals the collective consciousness a little more. We are all connected, and it is clear that we affect our immediate environment in straightforward ways. Our energy and well-being—for better or worse—is like a little wave that echoes across the world, touching each person as it ripples outward.
There is little we can do for others until we heal ourselves, or at least begin to do the work in earnest. That can sound harsh to those who are eager to begin the work for other people. If this is you, I would encourage you to take a look at the reasons behind your hurry in sharing Reiki with others before offering Reiki to yourself regularly and doing your own inner work. Is there something you are avoiding? Are you driven by guilt or limiting beliefs? Do you feel that you are unworthy of healing? Do you feel driven to stop the pain of others, perhaps because it hurts you, too? Or is it something else?
Many healers identify as empaths. That is often what draws them to the path of Reiki, and is sometimes what makes them afraid to practice. Yet, our own healing can often bring about some insight that helps reduce the difficulties that come with being an empath. This can be deeply healing to empaths, who often struggle to cope with ordinary life, feeling overwhelmed and overstimulated. Empaths often run on an underlying program of entanglement and guilt, accompanied by a belief that their needs aren't as important as those of others. Those programs can run very deep. Empaths can take guilt and shame feelings extremely seriously, often either acting out of them or acting to avoid them. Tending to your own healing can begin to help release these and help to develop a healthy sense of boundaries and compassion. This can make life much more enjoyable and relationships more pleasant. Should you decide to share healing with others, it will help you to do so without feeling drained and depleted.
Doing your own healing is allowing Reiki to help you find balance and your own truth. It is working with the Reiki principles and meditation to let your mind settle and sift through your inner world and find what is best for you. When you have your own balance and sense of truth, there is less need to seek it outside yourself. Healing requires hope, but it is much more that simply hoping. There is work to do in healing. Each person has their own inner work to be done. That work will be difficult at times, but very rewarding. While it is a wonderful thing to share Reiki and healing with others, consider how necessary it is that you embark on the work of healing yourself first. Should you decide to share healing with others, you will be a stronger healer and you will always know how to fill your own cup. Either way, you will be a stronger person.
Free eBook download: We've created an eBook with our best articles on this topic, and offer it for free to all our newsletter subscribers.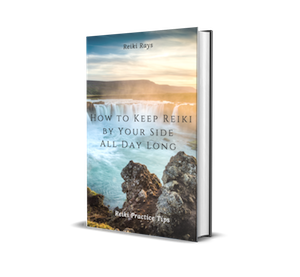 Angie Webster is a Reiki Master, Teacher, and Author. Angie's primary focus is animal Reiki, which she adores. She teaches online classes on energy healing, flower essences, herbalism, and personal growth. Angie often works with nature healing and Earth healing, hoping to better understand our connection with Mother Earth. Angie is the author of Animal Reiki: How it Heals, Teaches & Reconnects Us with Nature and Reiki from A to Z. You can follow her at: angie-webster-healing.teachable.com and on Facebook (facebook.com/angiewebsterhealing).