Article by Angie Webster
What are you grateful for today? Can you be grateful for your own precious life? How can you use Reiki to help you find that and connect to it? How can Reiki help you slow down and find your center, despite how fast the world around you moves? How can Reiki help you be true to your course despite how much people would push you to conform to their own wishes? How can Reiki practice reconnect you to the Earth and the Sky and the spark of the Universe that resides within you?
Reiki does all of these things just by being a part of your life. When you regularly make a point to connect with Reiki, you keep returning to your own energy and its connection with Universal Life Force. You replenish yourself, allowing yourself to be filled back up with love and centeredness. You remember that you are whole, even if you have made mistakes, felt lost or been hurt. You feel that you are part of a larger energy and all of life, even if those around you have forgotten. Reiki is your daily reminder.
There may be many days when your Reiki self-practice seems like an inconvenience or days when you don't feel very much when you practice. Don't let that convince you to stop or give up. The times that we are busiest, being pushed our hardest by the world, and the demands of our own minds—those are the times we most need the renewal, clearing and balancing of Reiki. It can be easy to notice only the negative feelings and harshness of life, only offering our attention to them. Give yourself the kindness of a few minutes to slow down and connect to the energy that supports life and health.
Breathe. Ground and touch base with your senses; with the world around you. Feel your own heartbeat, your own body, your own energy. Feel the Earth beneath your feet, the air you breathe, your body heat, the blood pulsing through your veins. Notice your aliveness. Revel in it with gratitude and joy, for at least a moment.
Connecting with Reiki can be that simple. It doesn't have to mean hand positions. Reiki is within you and all around you, all the time. Daily life needs our attention, so we turn our focus to that and don't notice the subtle energy that we all are supported by. Yet it is always there. In a moment we can turn our attention back to it and reconnect on a conscious level for a moment or two, drinking it in.
Reiki doesn't require that we leave life behind. We are here to live our lives as humans. Humanity, Reiki and spirituality are not separate from each other. Reiki supports humanity and life and our growth through living it. Reiki practice and the Reiki principles can help you live and grow in the best way for you, though it may not look like the ways of those around you at times. It can help you to appreciate the uniqueness of all life expressions, including your own.
Make it a point to regularly connect to Reiki and notice the changes in your life over time. Healing will mean something different for everyone. Allow Reiki to guide the way back to your own true nature, rather than let others or your inner critic tell you what your life should look like. Healing will always mean returning to what wholeness is for you, your unique body, mind and your own precious spirit.
Free eBook download: We've created an eBook with our best articles on this topic, and offer it for free to all our newsletter subscribers.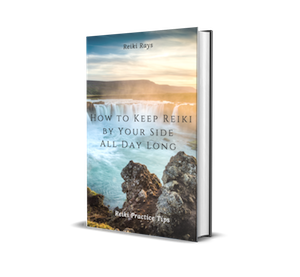 Angie Webster is a Reiki Master, Teacher, and Author. Angie's primary focus is animal Reiki, which she adores. She teaches online classes on energy healing, flower essences, herbalism, and personal growth. Angie often works with nature healing and Earth healing, hoping to better understand our connection with Mother Earth. Angie is the author of Animal Reiki: How it Heals, Teaches & Reconnects Us with Nature and Reiki from A to Z. You can follow her at: angie-webster-healing.teachable.com and on Facebook (facebook.com/angiewebsterhealing).