Article by Lisa Thompson
Sometimes you go through your Reiki training, become a master but then you haven't done your self-healing of Reiki for quite some time.
You may be asking yourself how do I reconnect with Reiki? If you have received your attunement you are already Reiki active, it never goes away, the symbols are in your aura. Think about what is happening in your life at the moment, is this the reason you feel disconnected or is it just simply that you haven't been practicing your Self-Reiki?
So how do you feel "reconnected"? Before you start giving Reiki healing sessions to others you need to go back to the fundamental practice of Self-Reiki. From day one you were encouraged to perform Self-Reiki daily or at least 3 times a week for Angelic Reiki so you need to build this practice back into your life style.
Schedule at least 3 Self-Reiki sessions in your diary starting from now, preferably every day but you can always build up to that.
Find a time when you know you won't be disturbed and follow these easy steps:
Sit in a comfortable position.
At the beginning of each session close your eyes and attune yourself to the healing by taking 2 deep breaths, Reiki lives in the breath.
Let go of any thoughts or feelings you may be having.
Dedicate the space to the highest healing possible for you.
Visualise a place where you feel relaxed, it could be somewhere in nature.
Place your right hand on your solar plexus and your left hand on your higher heart chakra.
Hold the intention for the healing you want and then let go.
Invite in the healing angels. Invite in the energies of whoever you work with.
Breathe the Reiki into your body.
This healing should take between 10-15 minutes or as long as you are guided.
Ask the healing angels and whoever else you have invited in to start taking the energy away by moving behind you.
Take two deep breaths to let the energy drop away.
Ask Archangel Michael to close the doorways that have been opened during the healing and to anchor the healing in you.
Ask the healing angels behind you to withdraw the energy completely. Connect with your heart and thank them. Thank your higher self for receiving the healing.
Affirm that you are absolutely disconnected on all levels.
Bring your awareness back into the room and dedicate any excess energy to Mother Gia to be sent to where it is most needed on the planet.
Open your eyes.
You will have noticed several things; first your breathing will have slowed down. Secondly you will have felt the air flowing through your body. This is the Reiki. Do not be too disturbed if you don't feel this at first. Keep at it as you have not been doing your Reiki for some time.
Enjoy your Reiki again, practice, practice and practice.
Free eBook download: We've created an eBook with our best articles on this topic, and offer it for free to all our newsletter subscribers.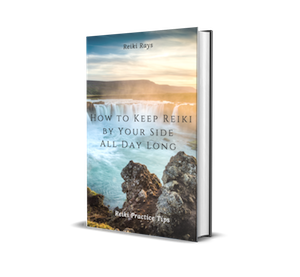 Lisa is a Reiki Master and a qualified Angel Therapist and Card Reader. As a child she grew up with her imaginary friends as well as human ones. She reconnected with her angels through Reiki in 2009 and has successfully been healing friends, neighbours, clients and animals through Reiki since 2013. She lives in Leicestershire in the United Kingdom. You can reach Lisa at angelsblessings@gmx.co.uk and on Facebook https://www.facebook.com/HealingForOurTime/ and Twitter at https://twitter.com/angelsblessing2.