Article by Angie Webster
Do you treat your back with self-Reiki? There are wonderful reasons to treat the spine, back and kidneys when we do Reiki treatments, and especially when we do our daily self-Reiki. The spine is a major line of energy flow in our system. This flows from our brain all the way down into our pelvis. Most everyone has experienced pain or tension in their back and shoulders, or headaches. These are related to energy restriction along the spine in most cases. Problems in the arms, hands, hips and legs can be related to blockages here, as well. In fact, there are nerve centers coming from the spine that extend to every major area of the body. Keeping the energy of the spine open and balanced is quite a big deal! It can help so much in our body and in our emotional state, too.
Since most drawings of the chakra system show the energy centers on the front of the body, many people have come to believe that this is where they are located. However, the chakras anchor at the spine and their energy circulates through the front and the back of the body. There are also meridians that run the length of the body. These are similar to our nervous system or our blood vessels, except they carry our life force energy. There are energy storage centers along the route of these meridians that collect and hold energy for us. When the meridians are functioning well, energy flows as it needs to from one center to the other, connecting everything very nicely. We feel well and are healthy. But when difficulties arise, such as stress and negative emotions, these become blocked or sluggish. Reiki helps to clear these and open the flow back up.
When I do self-Reiki, I typically make a point to treat my back, paying particular attention to my spine and my kidneys. Not only does it feel warm and soothing, but I can feel the energy opening in my spinal column when I do this. It makes a huge difference in the way I feel. Yet it can sometimes be challenging to reach my spine, especially if I am experiencing a blockage which is creating restriction. This is precisely when I need treatment the most! So I recently developed a method to assist me with self-Reiki of the back. It works beautifully, so I am sharing it with you!
This is done in the shower with the assistance of the water flow. I typically do this at the end of my shower and it takes only a minute or so. If you don't have a shower, or if you prefer to do it without getting wet, you could simply visualize the water flowing.
Ground and drop into your body as you stand under the flow of the water, with your back to the shower spray. Allow the water to flow down the back of your head from the crown, all the way down your spine. Ask the water to assist you in treating your spine.
Begin to imagine that the water is infused with Reiki. You could send Reiki to the shower head prior to beginning, if you like, or you can simply send love and Reiki to the water as it falls.
Imagine that the Reiki infused water is flowing into your head, through your brain and down your spinal column all the way to the base. You may see it become a color or it may appear as a column of bright light. Whatever you see (or don't see) is fine and perfect. It may change each time.
If you like and it is comfortable, place one hand on top of your head or at the top of your spine and the other hand at the base of your spine and allow Reiki to flow through the spinal column.
Finish by placing one hand on each kidney (on the back, under the ribs) and allow Reiki to flow. Ask the water to continue to assist by sending Reiki infused water to this area. When I do this, water naturally flows down my arms to the kidney area I am treating.
This feels wonderful, whether I do it in my morning shower, or at the end of a day when my back feels tight. I can feel the blockages release very quickly and see the energy flowing smoothly. I firmly believe that regularly treatment of the spinal area is so important, so I am happy to have found this.
Give it a try!
Free eBook download: We've created an eBook with our best articles on this topic, and offer it for free to all our newsletter subscribers.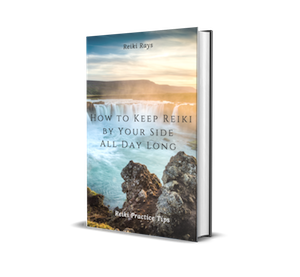 Angie Webster is a Reiki Master, Teacher, and Author. Angie's primary focus is animal Reiki, which she adores. She teaches online classes on energy healing, flower essences, herbalism, and personal growth. Angie often works with nature healing and Earth healing, hoping to better understand our connection with Mother Earth. Angie is the author of Animal Reiki: How it Heals, Teaches & Reconnects Us with Nature and Reiki from A to Z. You can follow her at: angie-webster-healing.teachable.com and on Facebook (facebook.com/angiewebsterhealing).