Article by Angie Webster
When you get involved in Reiki, it is a good idea to do so with your own self-healing as your main purpose. That may sound selfish to some, but in the end it really serves and protects everyone for the greatest good. I don't mean that we should not care about the needs of others, but that we must look to where we require healing and tend to that before we are truly able to see how we are meant to serve others. There are many ways to serve others, and serving through being a Reiki practitioner, offering public treatments is not the best thing for everyone. No matter what, we can best serve when we are well progressed in our own healing and continuing to tend to it.
The first level of Reiki is a level of self-healing and learning. The period of time between levels one and two allows the opportunity to learn how your system works with Reiki, gives you time to learn to work with the new increase in energy and offers you the opportunity to focus on your own healing and the healing of those closest to you. Though you can find many teachers to attune you to both level one and two at the same time, and even all three levels at once, I urge you to take the time between levels to adjust, heal and learn, especially after level one. Reiki is a life experience, not a goal to be reached.
Though most do well, it can be difficult for some to learn to adjust to the increase of energy after their first Reiki attunement. Empaths and Highly Sensitive People ( a sub type of empath), often feel that they are even more open than before and can have a hard time adjusting to this. This is often not addressed in Reiki classes, leaving the newly trained to learn how to cope on their own. Most empaths have little or no understanding of their unique neurological wiring prior to Reiki training and the new influx of energy can be very taxing on the body and mind for some. The buffer period between levels offers the person a chance to learn what this will be like and how to cope. It allows them time to decide if it is appropriate for them to advance to the next level.
Many people are best served by only taking level one and going no further. A wonderful reason to take Reiki is because you have health issues and would like to have a tool to help yourself, or you have family members who have health issues and you wish to help them. However, most of those who take Reiki for their health or the health of their family don't need to take levels beyond Reiki one. For those with ongoing health conditions, it may be in their best interest to remain at level one, simply because the higher levels may feel too intense for them, adding this to their discomfort. It is only necessary to be a level one practitioner to do daily Reiki self-treatment.
It is true that it doesn't appear that Reiki causes any harm, and it comes from a higher power. However, we are the channels for that energy and we must be prepared for that much energy to flow through us. A wire that is not properly prepared to conduct a large amount of energy will soon short out or burn. We are the wires through which Reiki energy travels. We have to tend to our own self-healing, which is easily done at level one, before we move on to tending to the healing of others.
The deep levels of soul self-healing go on for all of our lives and training at higher levels of Reiki—particularly the Master level—takes us deep into that, but we must be sure we are doing well in body and mind first. Reiki comes with difficulties as well as joys. Healing on the deep levels is not a smooth or gentle path. It means facing your inner shadows, your inner demons. That is not right for everyone, and it certainly helps to be strong before you go into it.
For some of us, it can feel very depleting to work a great deal with others using Reiki and that's fine. Reiki doesn't have to be learned in order to become a practice for others. It can be something you use simply for your own healing and to increase the joy and harmony of your life. It can open your understanding and connection to others and to energy. But how you use it and how quickly—or if—you advance beyond the first level, if strictly a personal decision. Consider giving yourself the time to know how you experience the energy before making the decision. There is no hurry.
Free eBook download: We've created an eBook with our best articles on this topic, and offer it for free to all our newsletter subscribers.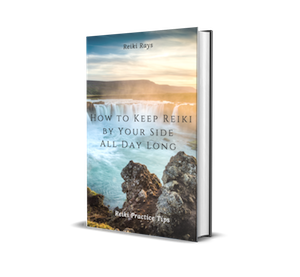 Angie Webster is a Reiki Master, Teacher, and Author. Angie's primary focus is animal Reiki, which she adores. She teaches online classes on energy healing, flower essences, herbalism, and personal growth. Angie often works with nature healing and Earth healing, hoping to better understand our connection with Mother Earth. Angie is the author of Animal Reiki: How it Heals, Teaches & Reconnects Us with Nature and Reiki from A to Z. You can follow her at: angie-webster-healing.teachable.com and on Facebook (facebook.com/angiewebsterhealing).