Invoking Universal healing energy during severe or threatening weather can bring harmony into your being and your surroundings during what can normally be a very frightening time.
On November 17, 2013, I sat writing at my computer in Bloomington-Normal, IL when I became aware of a strange rumbling sound in the distance and could feel an intense storm energy developing in the air. I looked out the window and the sky was quite dark in a strange sort of way and a huge and dense rain cloud hung very heavy over the entire neighborhood. I smiled and gave a slight bow of respect to the storm, as I do to every storm that develops. Yet, I could feel that this storm was different. Still, I took a long moment to grant it deep honor as the great and powerful force of nature it was, and each storm is. I also acknowledged the small knot of fear that I had in my belly and honored it, sending it respect and love as well.
This storm soon released to become one of the biggest storms and worst tornadoes that Illinois has ever seen. The steps I took as it rolled in may have helped to bring greater harmony to my home and my neighborhood. I actually had no idea that the storm was so dire until the next morning as I heard from relatives and neighbors. Taking a drive outside of our neighborhood the next day, I saw entire trees uprooted, enormous branches and limbs torn down and roofs ripped off of homes. A nearby town was almost completely destroyed and some people died. My neighborhood was barely tousled at all. Just a lot of wind and rain and some large hail, but no damage beyond a few shingles blowing loose on a roof down the street.
I have since taken these steps with other storms, including severe winter storms, to bring harmony to my home, my car and my life in relationship to the weather.
1. Always acknowledge the storm with respect and great honor. If you have fear in relation to the storm, acknowledge the fear with respect as well and send healing to this fear, but do not allow it to take you over. Remain calm. See the storm as the wondrous and powerful event of Nature that it is. Storm energy of all kinds is a necessary thing, regardless of your personal feelings toward it or the inconvenience it may cause in your life. When you respect that, you may enter in to a communication of sorts with it, and ask it to respect you as well and treat you kindly. Send love and healing energy to the storm, with the request that it discharge its energy for the greatest good of all beings and the Earth. Use any symbols that you feel led to use. I always call in the energy of North, South, East, West, Above, Below, and Within, as well as the elements of Fire, Air, Water, Earth and Ether. Call in anything that feels right to you.
2. Send healing energy to the plants, trees, animals, birds and surrounding structures in a broad sweep. Ask that they be aware that powerful storm energy is coming through and that while fear is not helpful, respect and mindfulness is important. Ask them to take shelter, hold their ground and be at peace. Send a strong blast of CKR, SHK and HSZSN out in a pulse to the surrounding area in a bubble that carries as far as it will.
3. Send healing energy into the walls of the structure of your home, asking that it be strong. Thank it for the protection and safety it has provided you and ask that it remain strong, in harmony with the storm. Envision the walls accepting the healing and see them strong and upright, peaceful and radiating with love. Draw CKR and push a chi ball filled with it into the wall facing each direction, as well as floor and ceiling. See this energy radiating out to fill the entire home and all who dwell there.
This will have to be done with care, yet with calmness and expediency when a storm such as a tornado is coming. All these steps can be done while moving to a safe storm shelter or from the shelter once there. Remember, state of mind is the most important thing with sending energy to a situation as well as to handling an emergency, so stay at peace.
Article by Angie Webster
Free eBook download: We've created an eBook with our best articles on this topic, and offer it for free to all our newsletter subscribers.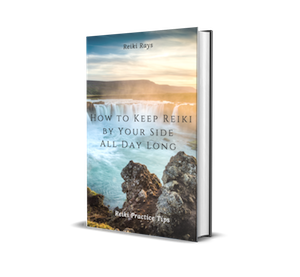 Angie Webster is a Reiki Master, Teacher, and Author. Angie's primary focus is animal Reiki, which she adores. She teaches online classes on energy healing, flower essences, herbalism, and personal growth. Angie often works with nature healing and Earth healing, hoping to better understand our connection with Mother Earth. Angie is the author of Animal Reiki: How it Heals, Teaches & Reconnects Us with Nature and Reiki from A to Z. You can follow her at: angie-webster-healing.teachable.com and on Facebook (facebook.com/angiewebsterhealing).